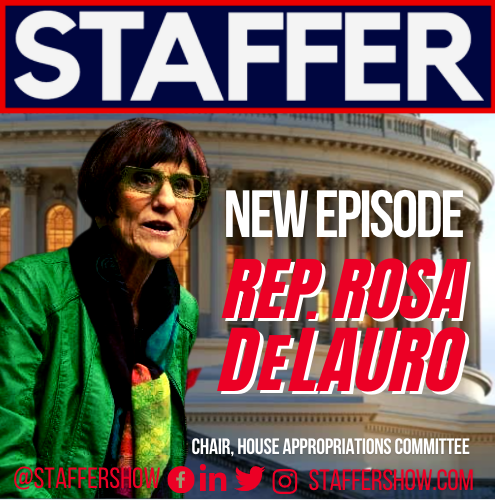 Rosa DeLauro was born on March 2, 1943 in New Haven, CT – the daughter and granddaughter of Italian immigrants. Her father arrived in the US at 13 years old without knowing any English, worked hard, and eventually became a successful New Haven Alderman (the legislative body in New Haven). Her mother was also a New Haven Alderwoman who, as a child, worked in New Haven's sweatshops before serving as the longest serving member of the New Haven Board of Aldermen from 1965 to 1999. Rosa was raised in an Italian Catholic household, which she has said is what motivates her public service, not the 22 years in the House of Representatives.
Rosa attended the London School of Economics from 1962-1693 and in 1964, earned her bachelor's in history and political science from Marymount College in Tarrytown, NY. She earned her Masters in international politics from Columbia University in 1966. After her graduation from Columbia University, Rosa became involved in community organizing through working with her father and eventually worked as a staffer for Mayor Frank Logue – first with his institute to train neighborhood volunteers for work in President Johnson's War on Poverty from 1976-1977, and then as his campaign manager for his mayoral campaign in 1978.
In 1979, Rosa worked as Campaign Manager for Senator Chris Dodd (the first woman in CT to run a statewide campaign), followed by a 6-year stint at his Chief of Staff, until 1987. During this time, Rosa was diagnosed with Stage 1 ovarian cancer and underwent several months of radiation – in 2010, she celebrated 25 years as an ovarian cancer survivor. She credits this experience with fueling her passion for health care reform and her advocacy efforts on behalf of women's health research.
From 1987-1988, she was the executive director of Countdown '87, the national campaign that successfully stopped US military aid to the Nicaraguan Contras. She also coordinated the tri-state area campaign of Dukakis's presidential campaign 1988. In 1989, she became the first executive director of EMILY's List, a role she only held for 1 year, because in 1990, upon four-term incumbent Congressman Bruce Morrison's (D-CT) retirement from Congress in order to run for governor of Connecticut, Rosa sought the open seat for CT's 3rd and quickly consolidated Democratic support behind her. Since her win in 1990, Rosa has been reelected fifteen times, never dropping below 58% of the vote.
Rosa is part of the progressive wing of the Democratic party and one of the founding members of the Congressional Progressive Caucus. She is the newly elected Chair of the Appropriations Committee, after Rep. Nita Lowey's retirement, becoming only the second woman to hold the Chair.